Please join us on Sunday, 10/21 and 10/28 from 1-3 p.m. for a casual game of women's flag football. Experience is not necessary! It will be a great time for fellowship and exercise while enjoying the fall weather. Bring a change of clothes and cleats (if you have them). Contact Grace Na (gracena@gmail.com) for any questions ...
Read More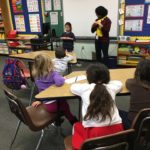 If you have a heart for children, we are looking for volunteers who are interested in serving our church by becoming a children's ministry teacher or assistant, or help supervise children in our nursery. Training and orientation will be provided throughout the year. We will assist all volunteers in completion of background checks prior to serving. If you are interested or if you have any questions, please contact Samantha Kim (samanthachankim@gmail.com) ...
Read More
---
Renewal College Fellowship Announcements
Join us as we continue to meet in our community groups to study the Bible and how it relates to our lives on our campuses. Please see our RCF page to find out more about community groups or contact Jane Cho for more information (miahnnn@gmail.com) ...
Read More
Friday night large groups will be starting soon!  Every Friday night, we join with students from our Main Line campuses with Philadelphia schools (UPenn, Drexel, Temple, and USciences) to have a night of praise, hearing God's Word, and fellowship. Meeting locations vary every week but pick-ups will be provided. The best way to receive pick up locations, times, and other information is by being on the RCF listserv. Please contact Jane Cho (miahnnn@gmail.com) to be on the listserv ...
Read More