Renewal COVID-19 Fund
If you would like to contribute to those in our congregation who are/will be impacted financially from COVID-19 in our church, please mail a check to PO Box 602, Plymouth Meeting, PA 19462 or give through our online giving specifying it as COVID-19 fund.
Love Your Neighbor Flyer
Let us take this opportunity to love our neighbor by offering them various ways to help them while being careful with close interactions. If you want a practical way to see if there is anyone you can serve, drop off this flyer at your neighbor's door or mailbox which offers different kinds of services to those who would welcome them.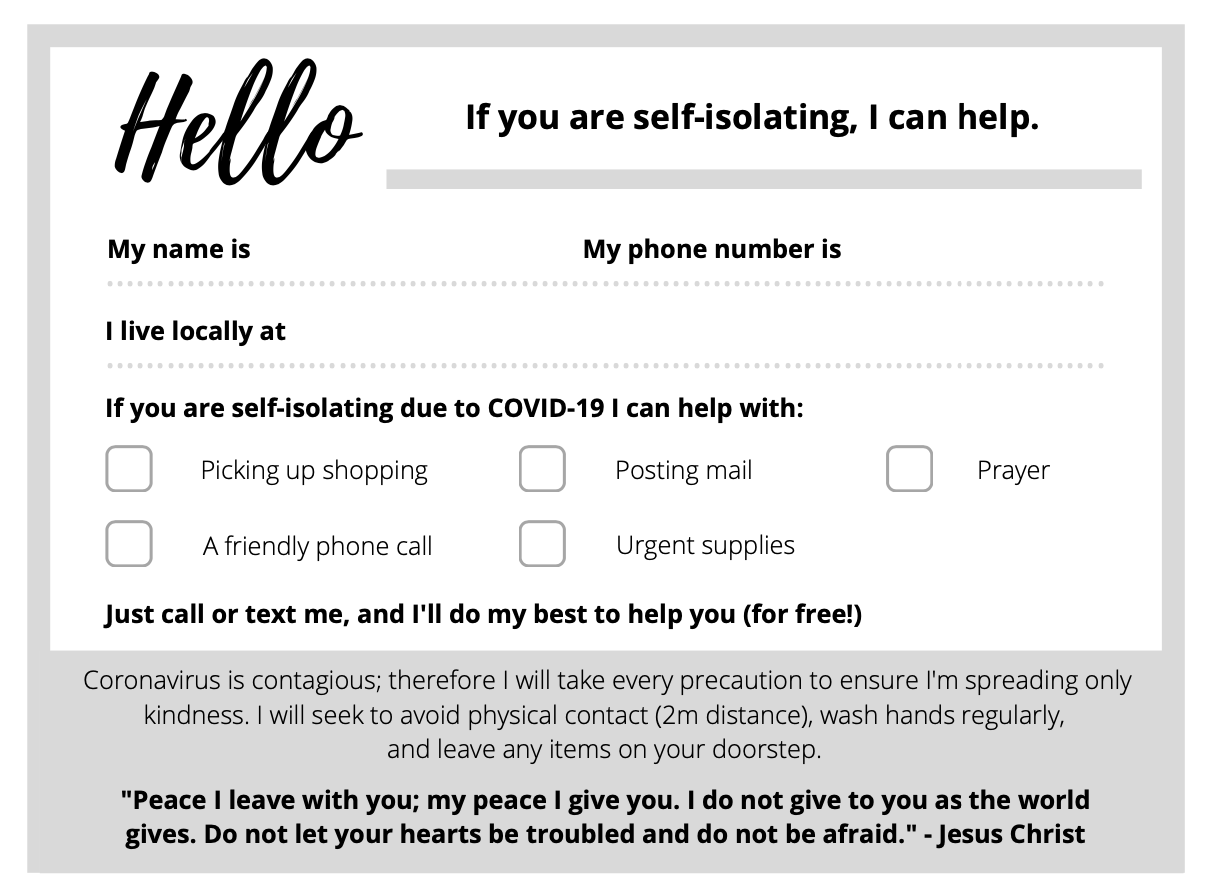 Local Relief Drives and Contribution Funds
Montgomery County
Montgomery County is collecting face masks and non-perishable food items at the Montgomery Township Police Department lobby between the hours of 7 a.m. and 7 p.m., located at 1001 Stump Road, Montgomeryville, PA 18936. Please be mindful to maintain social distancing while you drop off items. Click here for more information.
If you would like give financially to those in the Montgomery County area, the MontcoPA COVID-19 Response Fund provides grants to local, nonprofit organizations who have a history of serving the needs of the vulnerable Montgomery County residents. Click here for more information.
Delaware & Chester Counties
Local hospitals and first responders are seeking donations such as food & cleaning supplies, masks, wipes, sanitizers, and more. Click here for more information and a full list for what they need and where they need them.
Sew for PA (Chester County) – Pennsylvania Helping Essential Workers is a volunteer organization sewing and distributing masks to essential workers and those in need in the county. The organization is looking for local sewers to help make masks for distribution. Patterns, fabric, thread, ties, other needed supplies, and guidance will be provided. Contact information:

Facebook Group:  Sew for PA (Chester County) – Pennsylvania Helping Essential Workers
Email:  SewforPA@gmail.com